Including a diverse range of plant-based foods in your diet helps your health in many ways. However, for some of us, getting diversity can feel tricky based on our food habits, likes and dislikes. This is normal for most, and we've got some handy ways to help!
What is plant-based diversity?
The main aim is to consume as many different plant types as possible and we're not just talking about fruits and vegetables! When we think about plant diversity, the aim is for 30 'plant points' across the week, which comes from the 'super 6':
fruits
vegetables
nuts and seeds
legumes (beans, chickpeas, lentils etc.)
wholegrains
herbs and spices (which include tea and coffee)
The 30 'plant points' system works by calling 1 plant food "1 plant point" and 1 herb or spice = ¼ plant point. 
Here's an example of how you can get 5.5 plant points from just one simple breakfast:
Food
Plant Points
2 slices of granary toast
1
2 tablespoons of peanut butter
1
1 sliced banana
1
1 tablespoon of sprinkled milled flaxseed
1
1 teaspoon of sprinkled cinnamon
¼
Served with a latte coffee
¼
*(1 plant point if made with soy milk)
Activity suggestion
To help you find your current baseline of plant points….
Write what you ate yesterday and add together the 'plant points' from the various foods and drinks (don't forget the spices!).
After reflecting on what a typical day is for you, you can get an idea of what a week looks like. Now, where you can make some tweaks for added diversity?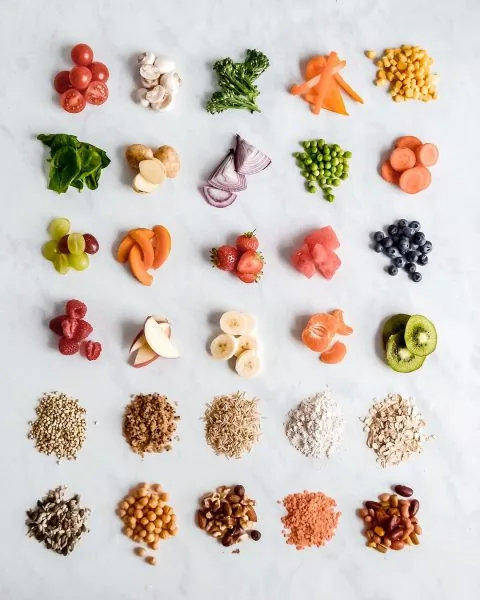 Why does plant diversity matter?
Eating a plant-diverse diet promotes the diversity of your gut microbiota (GM) which is the community of bacteria, fungi and yeasts that work synergistically with our body. It creates this diversity because different microbes enjoy (and thrive on) different foods.
Better GM diversity helps improve our immune system and produces molecules that may help balance our blood sugar, blood fats, appetite, and possibly even reduce the risk of some diseases.
Dietary diversity also reduces the risk of nutritional deficiencies as different foods have different nutritional properties. Consuming some nutrients together helps you better absorb them, e.g. having fruits and vegetables that contain vitamin C alongside sources of iron like lentils increases iron absorption.
Finally, the more diverse our diet, the more pleasure we can get from eating and drinking as diversity also brings flavour! 
Tips to make plant diversity easier with picky eaters
The non-food stuff
Ask yourself 'why' do you not include more diversity in terms of food or drinks.
Perhaps there is a particular texture you're not a fan of, e.g. things that are really soft? 
Are there specific tastes you dislike, e.g. bitterness?
Maybe the smell of something is unappealing for some reason?
It can be the sound of someone else eating that puts you off, e.g. with the condition misophonia.
Do you remember if there was a particular moment that set any of this off for you? Some people we see may have a distinctive memory and then haven't wanted a specific food or drink after that.
Do any of these points resonate with you? If so, our specialist dietitians can find the best strategies to help you move towards the diversity you and your gut deserve.
Let's experiment with food and drinks to get plant diversity.
Play with texture and cooking style
Many people say things like "I don't like vegetables because they're soggy" – they don't have to be!
You can boil vegetables for a shorter time than you currently do, or steam them, so they're firmer. Frozen vegetables can often be microwaved or dry-fried instead of boiled.

You can roast vegetables, e.g. broccoli and cauliflower tossed in some extra virgin olive oil making them more exciting and tasty than boiling.

Roasting or boiling before pureeing, such as with swede and carrot, similar to a mashed potatoes texture, is a delicious addition to meals such as a roast.

If you find wholegrain rice too tough in texture compared to white, you can boil it for longer so it is softer. As you eat it more, you will become used to wholegrain rice and may even grow to prefer it.

Oats can be consumed as granola, muesli, in porridge or overnight oats and nuts, seeds, dried or fresh fruit can be added to create different textures and flavours.
Flavourings
Spices and herbs can add a fantastic flavour and that 'yum' factor to meals. You can buy herb mixes or individual ingredients (dried, fresh, pastes, frozen, all count). Choose what you love, and then start experimenting. 

Adding your flavours before cooking, e.g. toss some Italian herb mix over vegetables before roasting them, or add a little extra virgin olive oil and the citrusy spice sumac onto vegetables after cooking them.

Make salads interesting by adding pomegranate seeds or sweetcorn for sweetness and extra texture, some crumbled feta for creaminess and a slight tang, and sundried tomatoes for sweetness and a little sourness.

You can buy or make bread with added ingredients like seeds, nuts and olives.

Cooking couscous or quinoa and adding a spoon of stock powder, herbs or spices can improve the flavour.
'Sneaking in plant-based foods'
This is where people mix a new food into a meal they already love in a way they can't really tell it's there. It's often used for children but can be helpful for anyone extra wary of trying new foods.
Here's some examples of things you could try:
Mashed potatoes and gravy
You can blend some boiled celeriac into mashed potatoes or lightly/dry fried mushrooms into the gravy (this also adds thickness)
The Creamy Mash and Mushroom Gravy recipe on page 270 of Dr Rossi's book "Eat more, Live well" has 7.5 plant points per serving.The mash in this recipe has celeriac and cauliflower blended into it along with some parmesan and dijon mustard – you can also use other flavourings to suit your tastes.
Bulking out mince dishes with lentils, e.g. replace some of the mince in a Spaghetti Bolognese with red lentils – they're incredibly soft and mild tasting which blends amazingly with the Bolognese sauce.
Blending red peppers into the tomato sauces for pasta or Bolognese adds extra sweetness and is unnoticeable for many.
You could also try grating carrots, courgettes, and finely sliced mushrooms into pasta sauces or curries. 
Savvy swaps
Some foods or drinks can be quite easily swapped in dishes for gut-loving others:
Use wholegrain bread crumbs or blitzed oats to coat chicken or fish.
If making your favourite pasta dish, swap out all or half of your usual pasta for a wholegrain version – the flavourings from the sauce you use are what you likely enjoy most rather than the specific type of pasta.
Try making your hot chocolate using cocoa powder and coconut milk (the non-tinned kind), adding a little sweetness if you'd like to – it tastes extra indulgent with the coconut milk.
Summary and Top Tips for Plant Diversity
Getting a greater diversity of plant foods in your diet may be more achievable than you think. While it's good to aim for at least 30 different foods from the 'super 6' across your week, any variety you add is positive.
Top tips:
Take it slow: Perhaps try 1 new one every other day.

Mix and match: Try mixing in ¾ of your current food or drink with ¼ of the new one you'd like to try and have more of, e.g. white rice and brown rice or dairy milk and a plant milk

Use the flavours that you enjoy to your advantage and incorporate them into meals with the new foods, e.g. if you love cheese, you can add a little grated parmesan over a new vegetable you've added to that meal
If you'd like tailored support on adding more diversity to your diet to help your health, Dr Rossi's books are widely available, and our team have spaces in our clinics to guide you.
This blog was authored by Sandy Soni, a coeliac and oncology specialist dietitian.