---
Grilled peaches and pineapple topped with live yoghurt and a crunchy walnut crumble, perfect for summer days.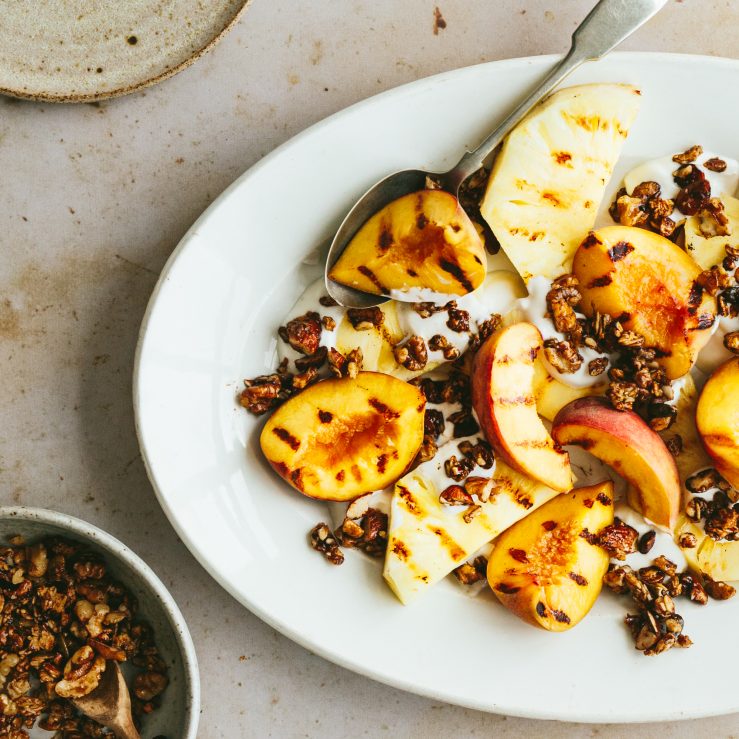 9 + Plant Points
Ingredients
½ cup (50g) walnuts
30g almonds
60g low sugar granola (we used Bio&Me Low Sugar Granola)
2 Medjool dates (mixed with 30ml of boiling hot water to create a paste)
1 tsp cinnamon
2 tbsp extra virgin olive oil (plus extra for grilling)
4 peaches, quartered
4 (1/2-inch-thick) pineapple rounds, halved
4 tbsp live yoghurt (we used Bio&Me Plain Yoghurt)
Method
Make the crumble by crushing the walnuts and almonds into smaller pieces, and mixing them together with the granola, cinnamon, extra virgin olive oil, date paste and a pinch of salt. Use your hands to mix it all until just combined.
Slice your peaches into thick quarters and half your pineapple rounds. Add about 2 tsp of extra virgin olive oil to a griddle pan, and grill the fruit, or use a BBQ if you have one, for about 2-3 minutes on each side.
Serve the peaches with some of the crumble and some live yoghurt.